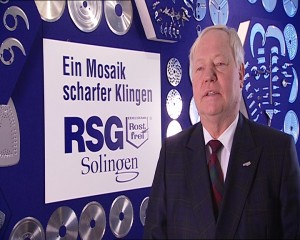 RSG Brief Introduction
Mr. Muegge is the founder of the RSG.  He has been successful in the knife industry for more than 35 years.  RSG established in Solingen (city of blades) Germany and started production in 1978.  They have been specializing in knife design and production.  In order to accomplish fine quality handcraft made products, all cutleries are crafted by forged production processes and unique traditional hand sharpening skills.  They have their own Research and Development, Production and Quality Assurance teams and controlled product quality under their in-house factory from product design to finished goods.  RSG knives are well accepted in Europe and a famous brand in the world.
RSG簡介
Mr. Muegge是RSG的創辦人。他從事刀具業務已超過35年。公司廠房坐落於有刀具搖籃美譽的德國Solingen (索林根)並在1978年開始生產刀具。他門從事刀具的專門設計及生產。所有生產是運用鍛造工藝及他們獨家研發的傳統人手打磨技術來生產出精工優良的刀具精品。他們擁有自家的產品研發部,生產部及質檢部來控制產品從設計至成品的整個品質保証過程。他們的刀具暢銷歐洲是世界知名的品牌。
To have Originality of One's Own   German Culture
All RSG knives are under 11 main precise forged production processes.  They adopted German made top class stainless steel 1.4116 (X50CrMoV15) for all cutlery knives.  Here are the major advantages:
Unique Design – Perfect balance between handle and body.
Sharp Knife Edge – Experienced German craftsman using traditional hand sharpening method.
Comfortable Hand Feeling – Adopted ergonomic design.
Durable and Reliable – Adopted German made top class stainless steel, high anticorrosion and wear proof. Hardness up to Rockwell 56 degree

匠心獨運 德國文化
RSG德國鍛造刀具是經過11道精密而嚴緊的生產工序而成。他們所有刀具都是採用德國頂級不銹鋼1.4116 (X50CrMoV15)的。刀具的特點是:
設計獨特 – 獨有手柄與刀身的平衡設計。
刀刃鋒利 – 德國經驗工匠應用傳統手工打磨而成。
手感舒適 – 應用人體工學設計。
耐用可靠 – 採用德國頂級不銹鋼,高防銹及耐磨。硬度達洛氏56度。
Messer Gabel Scheren Markt Solingen 在索林根參展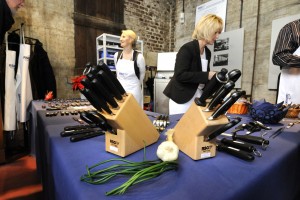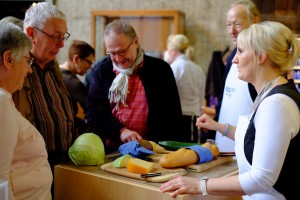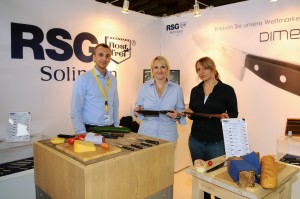 Ambiente Frankfurt 在法蘭克福參展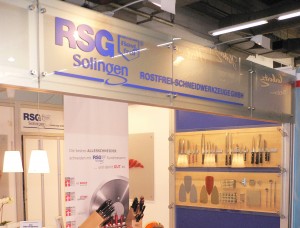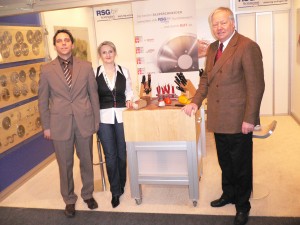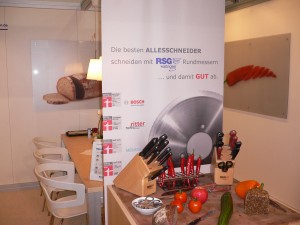 Chef's Comments 大廚的意見 – Knut Buchmuller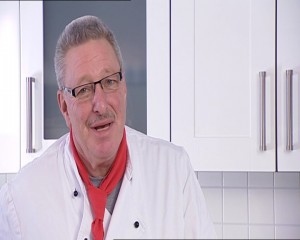 Food is a valuable resource and it should be prepared with good care.  A clean and clear cut of foods will give an appetizing mood to the users as well as bring funs and satisfactions cooking to family.  RSG knives have variety of choices and would meet your requirements.  With an RSG knife, slicing, dicing and chopping are sheer pleasure and demonstrate your discerning professional standard.
食物是珍貴的資源而它必需要得到妥善處理。干淨利落的切削可為用家帶來引起食慾的情緒而且還會帶來烹調的樂趣及滿足給家庭。RSG刀具有多樣化的選擇及定能達到你的要求。使用RSG刀具,一切的薄切,厚切及切碎工作都是樂事同時證明你的專業眼光及標準。